Inspiration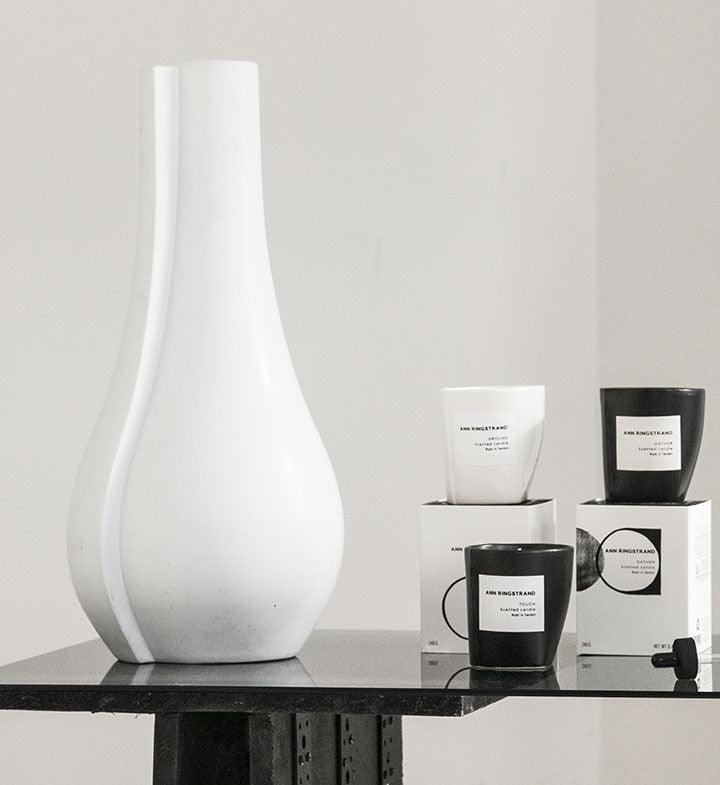 Inspiration
Creating our scented candles
Scenting the rooms of your favorite spaces is an inviting and recognizable gesture you can create for yourself and your loved ones, says our creative founder Ann Ringstrand.
We often sense smell before we can experience any other sensations. I remember in the early 90 ́s when spending time in Paris, for fashion work, me and my friend always went to this little store in St German called Diptyque. We brought home some beautiful scented candles to Stockholm.
This was fairly new at the time. I have, since then been fascinated by the art of scents and the effect of using the smell to get in contact with myself.
In 2016 I started educating myself in perfuming and elaboration hand in hand with perfumers in Paris. The ANN RINGSTRAND fragrances are a result of fine development, choosing the raw materials. Mixing the perfume with the wax are careful steps that lead the way to a scented candle. The scents has been inspired by our relationships and carefully designed with the finest materials from France. Ringstrand says,
I often found the candle glass hard to throw away but not designed to be reusable. I therefore wanted to design a cup that was a sustainable investment and a collectors item.
To create the asymmetric shape, the designer played with clay with her 10 year old daughter. Ringstrand wanted to mold a stitching into the side of the cup. She used a seam from a pair of trousers she designed. It left a mark from her previous life in fashion. She then transformed the shapes into sketches using her knowledge from fashion drawings. The sketches went into 3D printings by a design team in Stockholm. The cups in stoneware ceramic are then handmade in Sweden by Gustavsberg Porcelain Factory. Luckily, the porcelain factory is only a minute away from a small candle maker that pours the candle by hand. 
Wicks are placed at the bottom of each cup so that they stay perfectly centered. The cups are then aligned on the stone counter before pouring. Right after the molten soy wax is mixed with the perfume, it is poured into the ceramic cups. When the wax starts to solidify, the wicks are straightened to ensure they are nicely in the center of the candle. The candles are then made perfectly smoothened at the surface by a light melting of the top. The wick is then cut at an optimal height to ensure the first burning. Once cooled, every candle is inspected, wiped and packaged by hand.
 by Ann Ringstrand